So. That whole write more goal I had at the beginning of the year. That's going smashingly well!
Life gets in the way. Sorry, I'm not sorry! But I will give you a little break down of what's been going on.
Work. You may want to know, I'm a supervisor at a call center. And, this has been an incredibly busy six months. And it should get even better. Grouchy people are grouchy AF!
Race for the Cure. The town I live in had it's first ever Race for the Cure in May. I was apprehensive about doing this because I had a really bad fall in March. We're talking an I'm lucky I didn't break bones or cause internal damage kind of fall. I was bruised and scratched up. I would try to work out and it was too painful. So I had to back off and just let myself heal. And that was no fun. Because I really have gotten in to my workout routine. My Mom is a 15-year breast cancer survivor. This is my hometown and the event was on my college campus. How could I not do it? So I took it easy, as you should do for a Race for the Cure. It was an absolutely gorgeous day and I loved the event. I will be doing it again!
Workout Adjustment. Since my hours have changed at work to a more human like schedule, no longer zombie like, I can work out without feeling dead afterwards. I'm re-energized. Therefore, I've been adding to said work out. In order to prepare for any situation, I'm walking with an incline. And after the May race, I know I need to actually continue bumping up that incline. Now, if I could just avoid the IT-Band pain. It's a little nauseating. … OK, a lot nauseating!
I'm also thinking about doing this local running group project. I say thinking about it for obvious reasons. I want to do it, but I worry about being able to and that's no way to be. I've attempted running projects before – Couch to 5K, etc. But this group is … well. Serious. This is why I am just thinking about it. I have a few days! We'll see!
Other Things. My baseball team, the St. Louis Cardinals, has not been playing up to par. Donald Trump is still the president of the United States. The GOP is creating health care legislation that could kill people, rather than help. Who knows what's going on anymore! Keep your head up.
Streaming Stuff. What shows should I be watching on Netflix or Hulu? House of Cards has been way to real so far! One thing has been certain. Robin Wright as Claire Underwood has been absolutely stunning.
I waited all year to find out how Orange is the New Black's cliffhanger concluded, and I can't even make myself watch it, yet! So what should I watch… Stranger Things may end up being it. I watched an episode while at the gym last week and almost slipped off the treadmill a couple of times it was so good.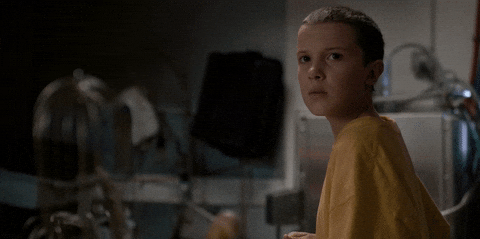 Thoughts and recommendations are always appreciated!
Reading. I've been reading short stories on my Kindle a lot lately. There are some good ones on Kindle Singles. I'll talk about them later! I'm really needing to get David Sedaris' new book of diaries. He's an amazing writer. And, then there are a few other books I'm in the middle of … Amy Poehler's Yes Please has taken me a while and then others. Yes, I do get distracted easily, why?! Thoughts or recommendations?
Questions or concerns, friends? I'll be back sooner!